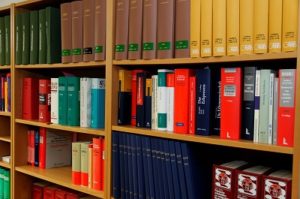 Seeking FDA De Novo Classification for Innovative Medical Devices
Medical device manufacturers that develop novel new products may face a challenge when seeking FDA regulatory compliance
If a new device represents a significant innovation, then it may not be seen as substantially equivalent to any pre-existing products.  Creating a groundbreaking new technology is great, except when it comes to assessing its potential risk and safety in the eyes of the FDA.
De Novo Medical Device Classification
A medical device that that is determined to be not substantially equivalent to a pre-existing (i.e., "predicate") Class I or Class II device has historically, conservatively, and automatically defaulted to a Class III designation.  However, with the Food and Drug Administration (FDA) Modernization Act (FDAMA) of 1997, a pathway was created for novel devices that would otherwise be designed as Class III to be evaluated through a De Novo classification process so that they may be classified as either Class I or Class II.
Efforts have continued into 2019 to further clarify and enhance the De Novo process.
Note that there may be a fee for submitting a De Novo request.  The FDA requires a standard fee of $93,299 and a Small Business fee of $23,307 for such requests with exceptions for devices that are intended exclusively for pediatric applications and certain non-commercial devices.
Devices that are classified through the De Novo process may be used as a predicate for future 510(k) submissions.
What are your Options?
There are two paths medical device manufacturers may elect to take in seeking regulatory compliance for devices that may not be substantially equivalent to a predicate device.
Option1:  If the manufacturer makes an initial 510(k) submission and the FDA determines that it is not substantially equivalent to a predicate Class I or Class II device, then a De Novo request may be submitted for a risk-based determination to designate the device as Class I or Class II.
Option 2:  If the manufacturer determines at the outset that the device has no predicate, then it may elect to make a De Novo request.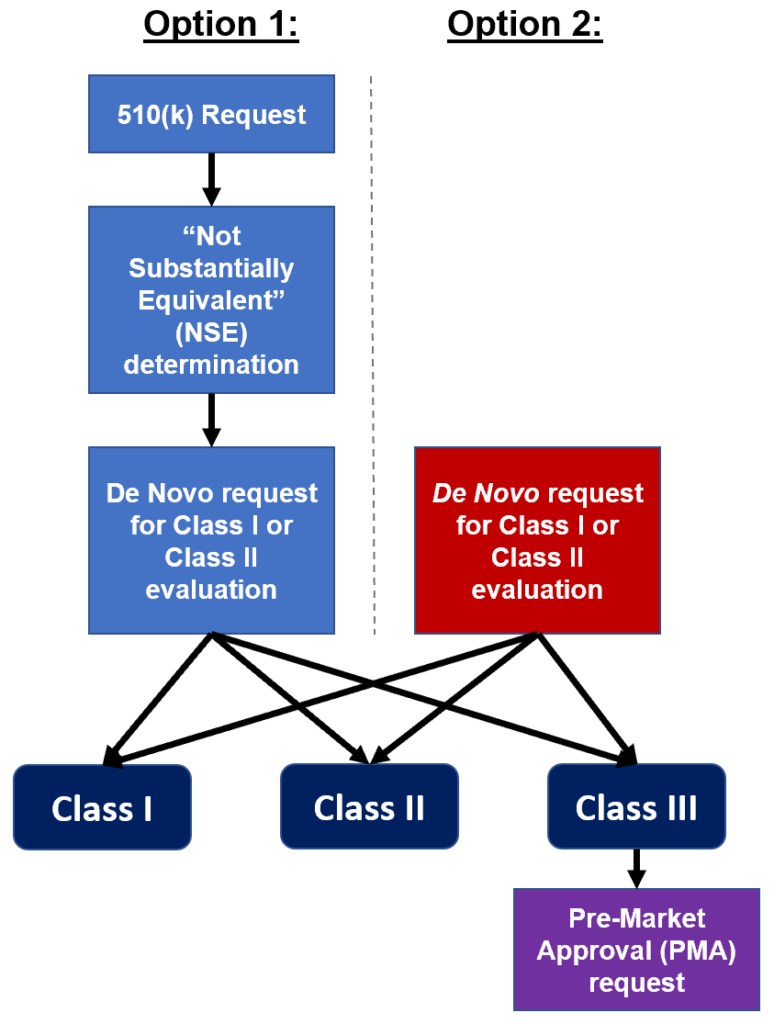 What are the Considerations?
The requirements for a Class III device are significantly more stringent than lesser device classifications.  However, the prospects for pursuing the De Novo classification process can also have significant ramifications in terms of cost and time-to-market.
The typical De Novo classification evaluation can typically be expected to last anywhere from 90 days to well over a year with the fees noted earlier.
The primary consideration for pursuing a De Novo classification is intended use.  If a device's intended use does not overlap with the intended use claimed for pre-existing devices, then a De Novo path is required and Option 2 would probably represent a preferred path.  However, if a device is not distinguished by a unique intended use but rather through the novel application of technology or methodology, then the question enters a grey area.  The FDA will have to evaluate how much overlap exists with pre-existing devices.  In this case, Option 1 may be preferred.
Medical Device Consultant
The information provided here is offered for educational purposes and does not constitute professional advice.  The services of a knowledgeable and experienced medical device consultant will allow medical device developers to effectively navigate the regulatory process.
Contact Altemir Consulting for your medical device consulting needs including FDA regulatory compliance as well as product engineering, manufacturing, and quality assurance support.